North Hero Island
Lake Champlain, Vermont
Camp Peterson, aka Camp Bob-a-Lot
| | |
| --- | --- |
| Camp Peterson, front. Bert & Steve recently bought this place to use as a weekend/vacation destination. It's on the west side of the island (they get the nice sunsets), five miles from the little blue camps. | Camp Peterson, shoreline with hammock |
| | |
| --- | --- |
| Living room straight out of "That 70s Show" | Spacious kitchen, equipped to the gills by Bert |
| | | |
| --- | --- | --- |
| Master bedroom | Guest room with double bed | Guest room with bunk beds |

On the screened porch, Bert enjoys a drink
and a snack of her own famous dilly beans.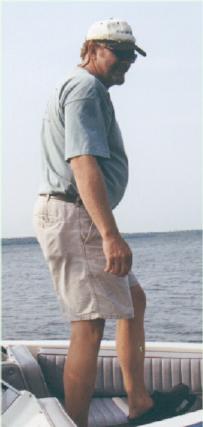 Skipper Stephen on board the Jig-a-Byte


Steve bringing the boat home in late afternoon (the Alburg Tongue in the background)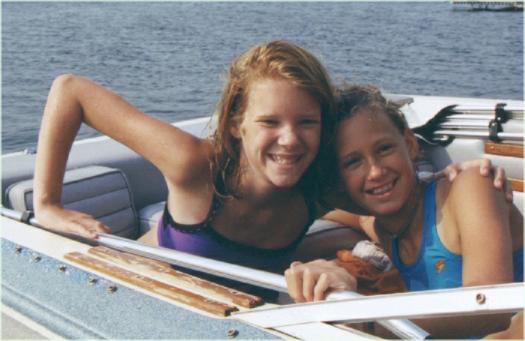 Megan and Liese after Stephen took them out to the
"deep end" of Lake Champlain to swim, or rather to bob-a-lot.
This consists of wearing a life vest on your hips
so that you can sort of "sit" in the water and, well, BOB-A-LOT!
Liese the dog-lover and the three very nice doggies from the camp next door to Bert and Steve.


On to the little blue camps
On to North Hero Island
On to the Shelburne Museum
On to Montreal

Back to THP