Summer 2004
Vermont and Montreal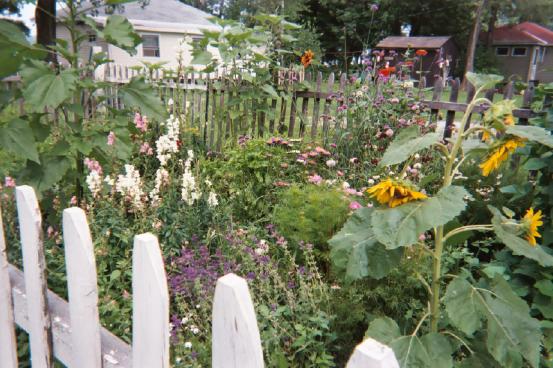 Bert's welcoming garden on North Hero Island, Vermont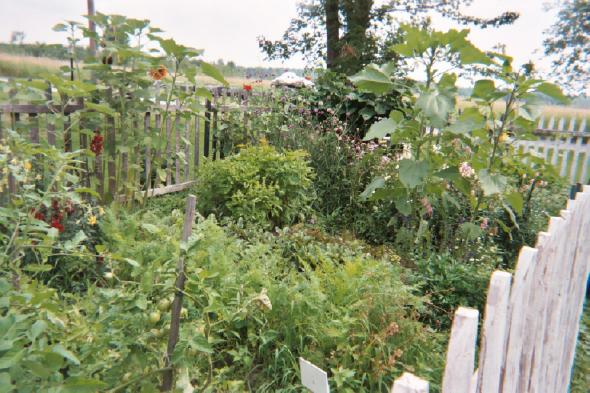 Another view of the garden, bursting with flowers, tomatoes, green and purple beans, zucchini and herbs.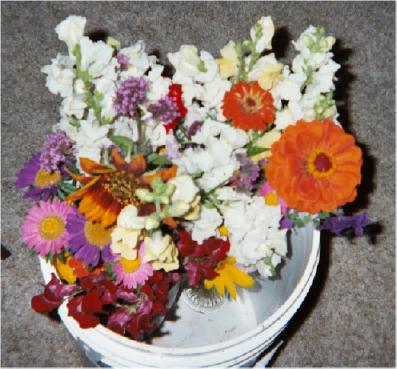 Liese and Bert went flower-cutting in the garden.
They picked a bucket full of color.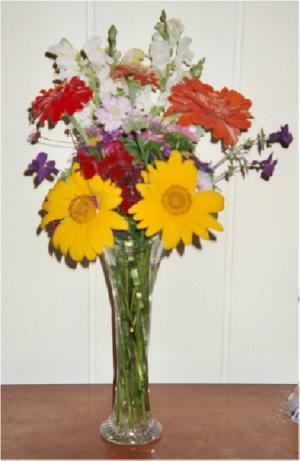 One of the arrangements we were enjoying at camp,
when all of a sudden...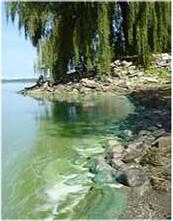 the Alburg Passage, the section of Lake Champlain on which
Bert and Stephen's camp is situated, was infiltrated by a "surface bloom"
of cyanobacteria, aka blue-green algae, aka pond scum! (the real thing, not Republicans).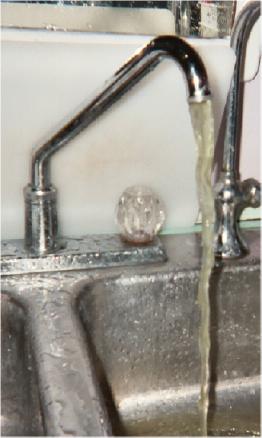 The water at camp, which originates in the lake, actually turned GREEN!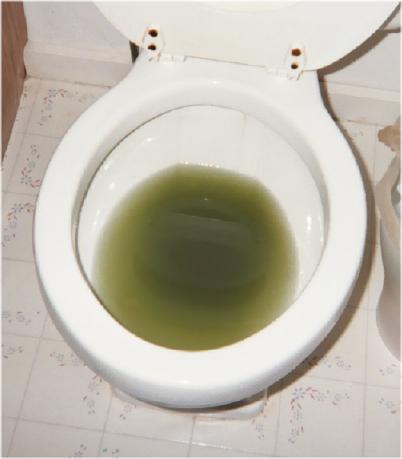 Is this unbelievable or what? Read about blue-green algae here.
You can see it was big news that week in the Burlington Free Press.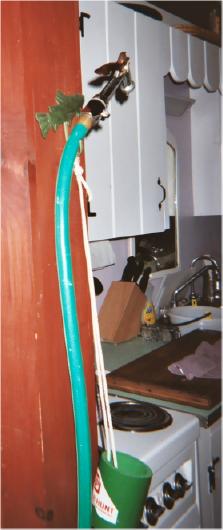 Stephen rigged the hose to the neighbor's town water supply
and was able to supply clean water to the kitchen that way,
but we thought it best to abandon camp and headed to the valley
for a couple days while UVM scientists determined if the algae was toxic.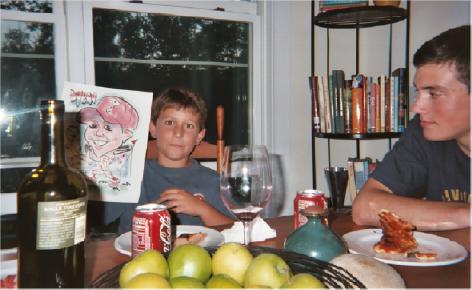 At home, Dylan showed us all the cool souveniers he got on his summer
visits to Veterans Stadium in Philly and Camden Yards in Baltimore!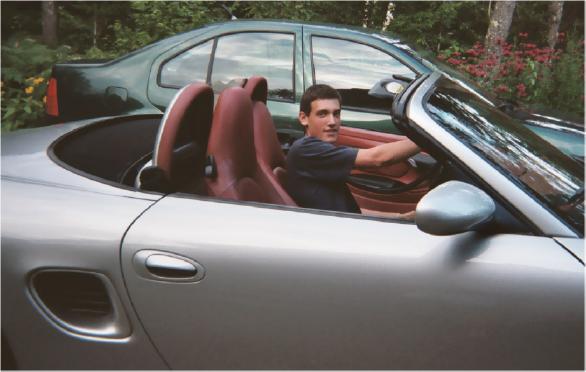 We met Steve and he certainly made a good impression by letting
Tim drive his Porsche! Dylan acted as navigator around Warren.
In a couple days the UVM guys said the algae WAS toxic
and we couldn't go back to camp till it was gone,
so it was time to pack up and head to Montreal.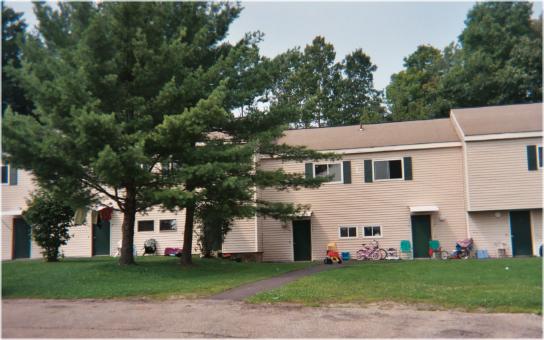 On the way, we stopped to see "the projects" in Essex Junction,
where we lived in 1992. They've painted the place and it looks better now.
That was our apartment right in the middle, L-5, up and down.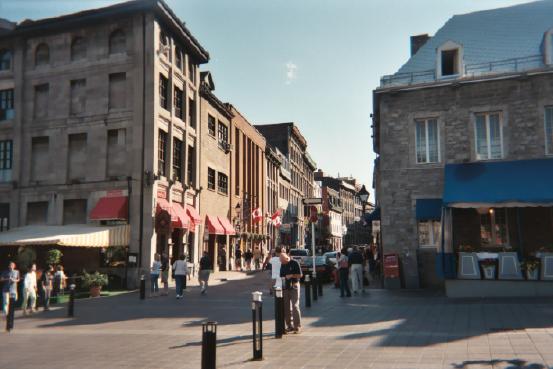 This could easily be somewhere in Europe, but it's Vieux-Montréal, the old section of Montreal.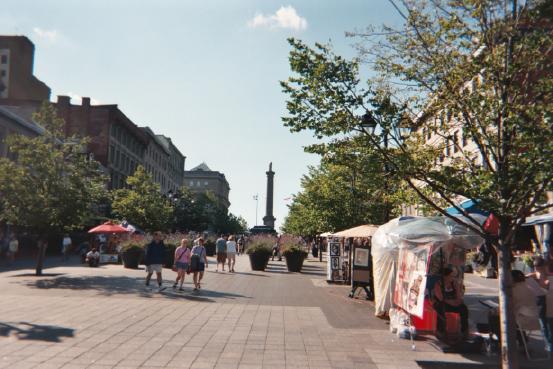 Place Jacques-Cartier (1804) in Old Montreal, as usual filled with
flowers, artists, fire-eaters and tourists.
The Nelson Monument in the background.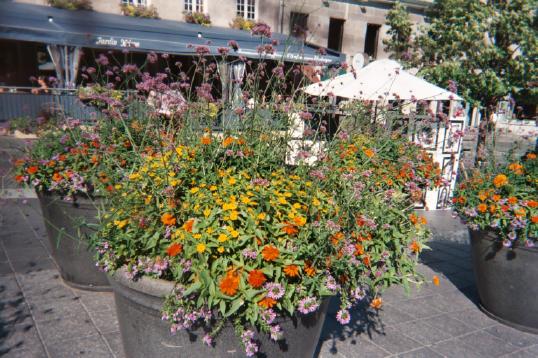 It was only in the low 70s in late August up there...
Beautiful plantings everywhere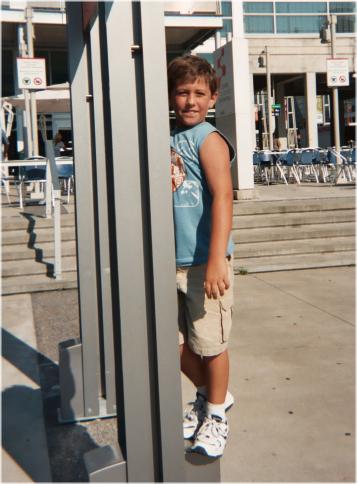 Dylan outside the Montreal Science Center,
where we saw two IMAX movies, a 3-D one about bugs
and a 2-D one about lions

Park along the riverfront near the Old Port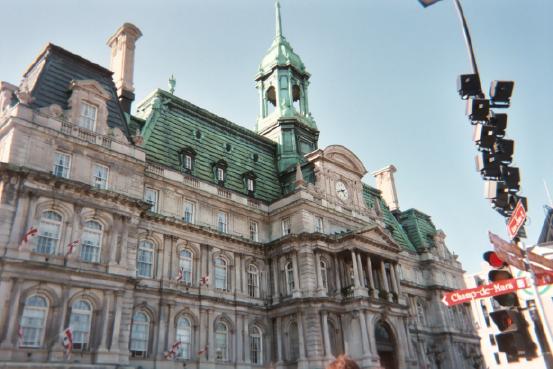 Yurpen-like facade of some official building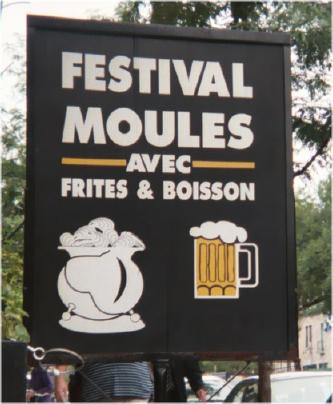 You could be in Brussels with this menu!
Mussels, fries, and a beer on La Rue Saint-Denis
(practice your French!)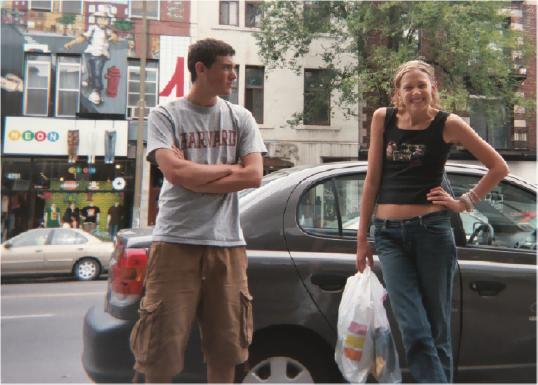 Tim and Liese on La Rue Saint-Denis...Liese with the shopping bags of course.
Back at camp, Liese caught her first fish under the tutelage of Captain Stephen!
Undoubtedly, she was the only person fishing Lake Champlain that day in a little black dress, lol.
She named the little fella Gill, then released him to live out the rest of his natural-born days.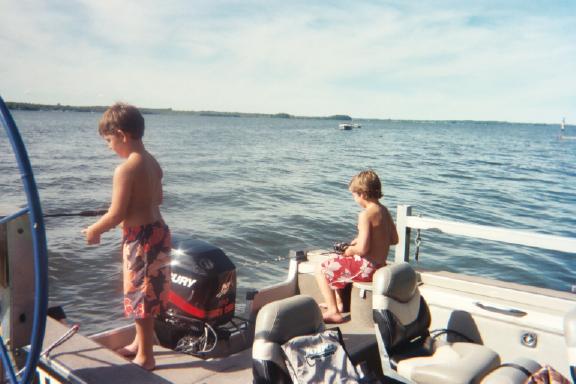 Dylan and Sammy gave it a shot as well, but didn't get a bite this time
Jude and Steve trying out for the US Olympic Paddleball Team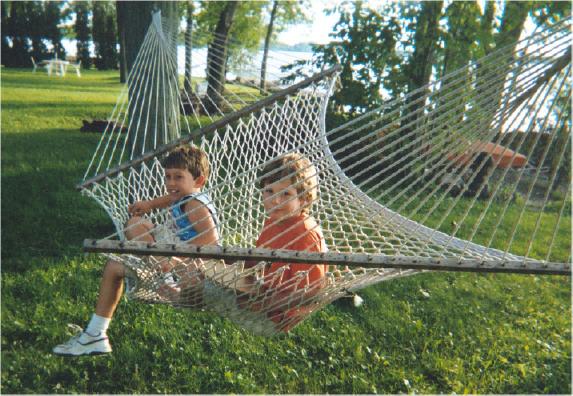 while Dylan and best friend Sam wait to play winner...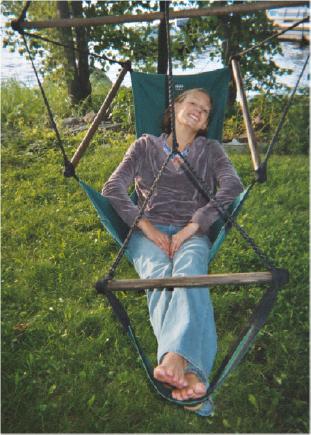 Liese lounging in the skychair


We'll end this little round-up with the bumper of Steve's other car...
don't forget to vote against Bush everybody!