Dylan's graduation from The Warren School
Warren, Vermont, June 2008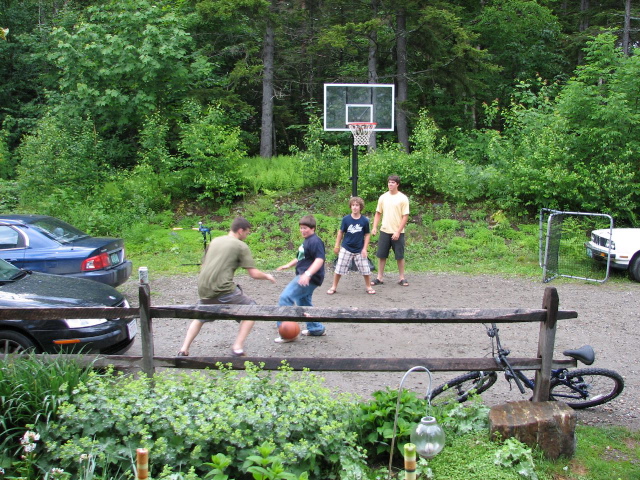 First night: fettucini with three sauces (cooked by our own roaming Top Chef Aunt Bert) at Jude's house in Warren,
which now features a completed downstairs bath, finished loft in the guestroom, and gorgeous granite bar in the kitchen.
The boys--Tim (a senior at UVM), Doreen's eldest Austin (a sophomore at Montana State),
Angus and Dylan played hoops while the grownups cooked and drank, and
Anneliese slept off the last of the meds she was taking after getting her wisdom teeth pulled (she's doing great!)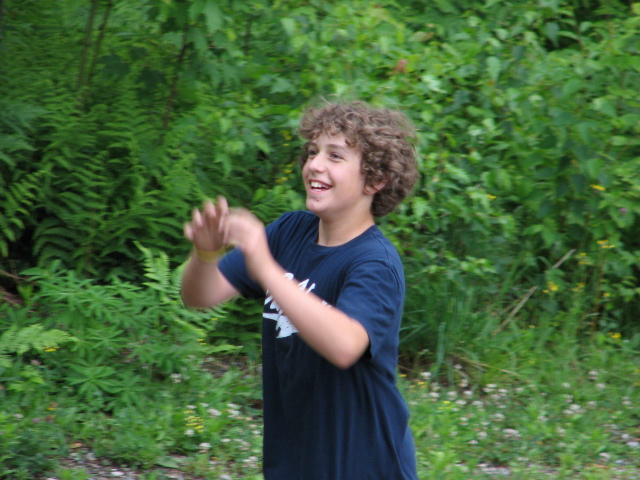 Dylan....who knew he has exactly the same hair as Anneliese?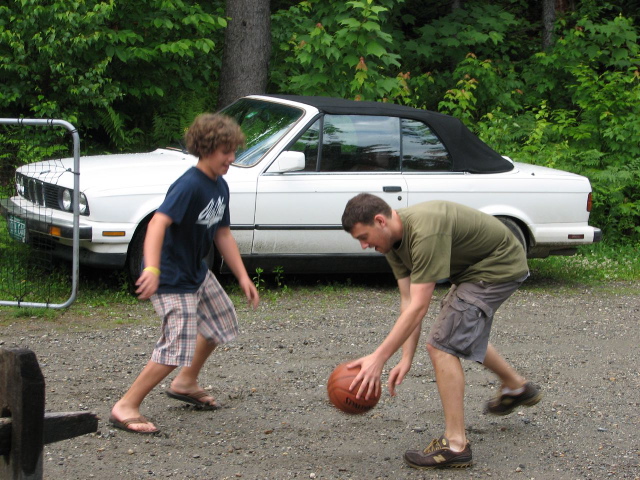 Dylan and Tim, the Green Mountain cousins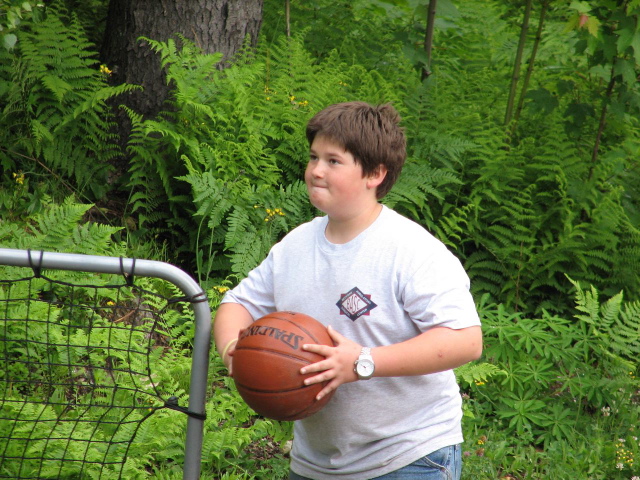 Angus concentrating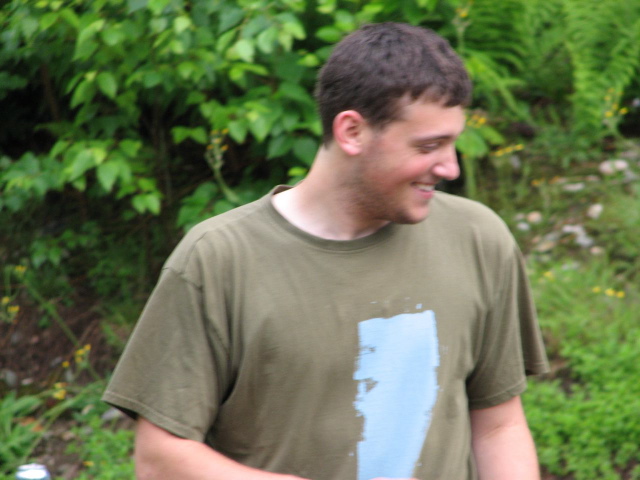 Tim smiling in his Sigur Rós shirt--Montreal on Saturday, September 20th, Timbo!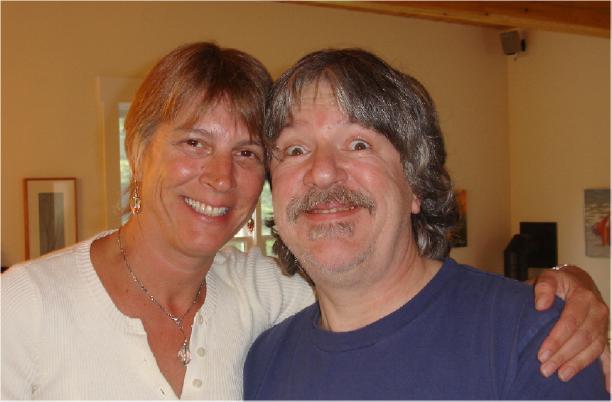 It was great to see Doreen and Austin and to meet D's new beau Skip.
Skip's Massachusetts accent reminded me of Kenny C.,
and he's spent lots of time on his friend's houseboat in Amsterdam.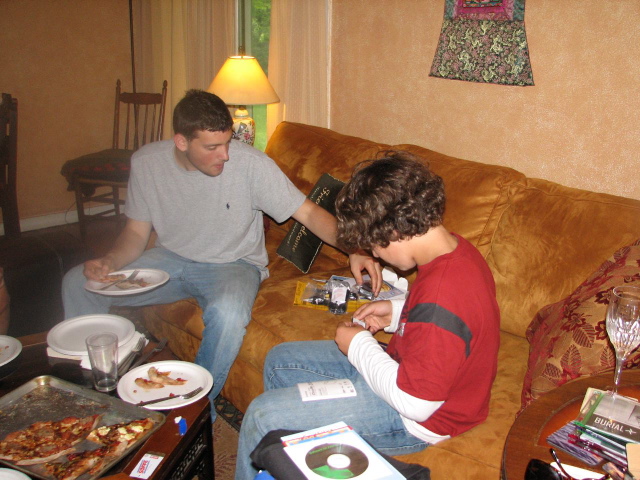 Second night: pre-ceremony early dinner at Aunt Bert's and Uncle Stephen's in Waitsfield.
Tim and Dylan check out the digital camera Judy gave D. for graduation
whle enjoying Bert and Stephen's homemade pizza with assorted gourmet toppings.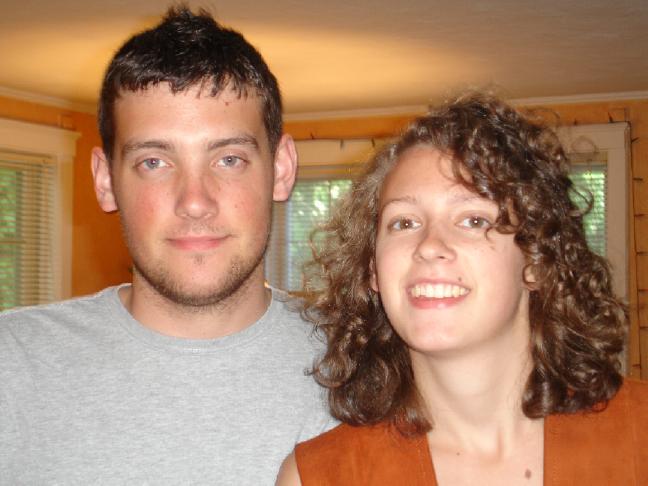 Tim and Liese at Aunt Bert and Uncle Stephen's.
This was only six days after Liese's surgery and she
was completely off the pain meds and eating normally!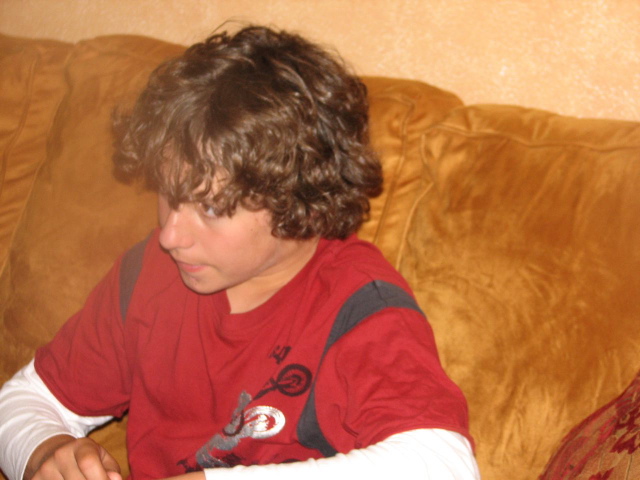 Dylan just before changing into his suit and tie for the occasion.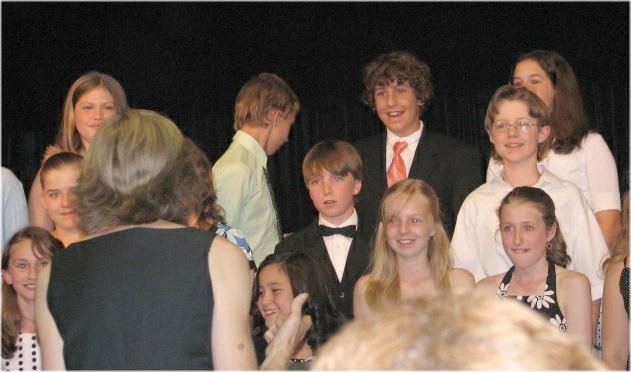 The Class of 2008, 24 kids strong, singing Avril Lavigne's very appropriate Breakaway (lyrics here),
about leaving a small town to make your way in the world but not forgetting where you came from.
These kids are finishing 6th grade at a tiny village elementary school where most of them have been since
(even pre-) kindergarten and moving on to a much larger middle school that shares a campus with the high school.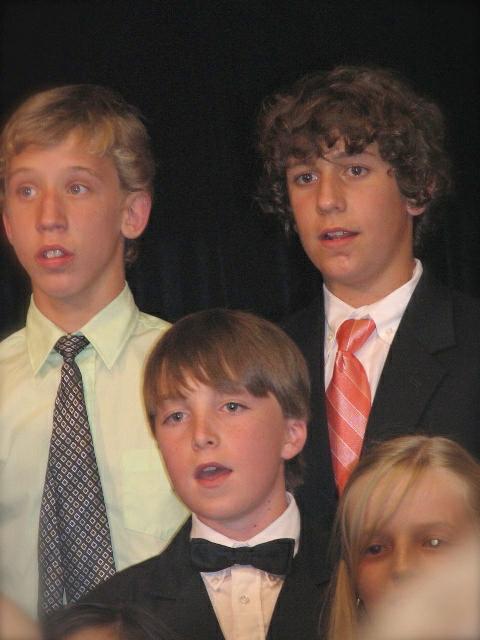 Tommy, Dylan and Hobey singing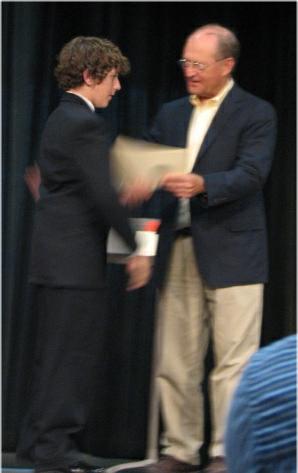 Dylan receives his certificate from the school's principal, affectionately known as Dr. L., who actually KNOWS all the kids .
As Tim pointed out, in New Jersey the principal will know the top 5% and the bottom 5% and that's about it.
Because there's ten times as many kids and no more hours in the day...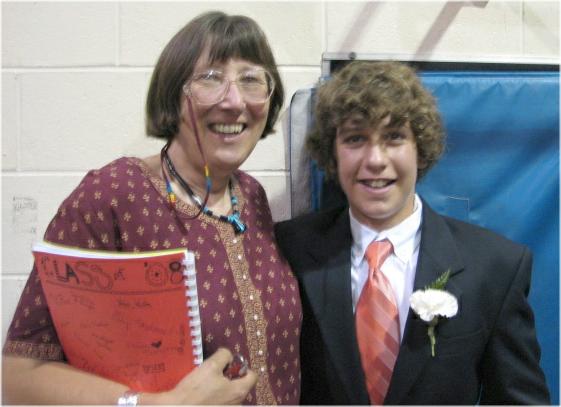 Dylan and his favorite teacher, Nancy (the kids call their teachers by their first names at this school).
The kids each prerecorded a video segment about two minutes long and these were shown during the ceremony.
It must have been very heartwarming for the teachers to hear all the fantastic things their students said about them.
Many gave specific thanks to certain teachers for helping them with something they found hard or turning them on to something they love.
Here's what Dylan recorded, it was lovely. Wish I had all the cute pix of him when he was little that went with it! they were like this.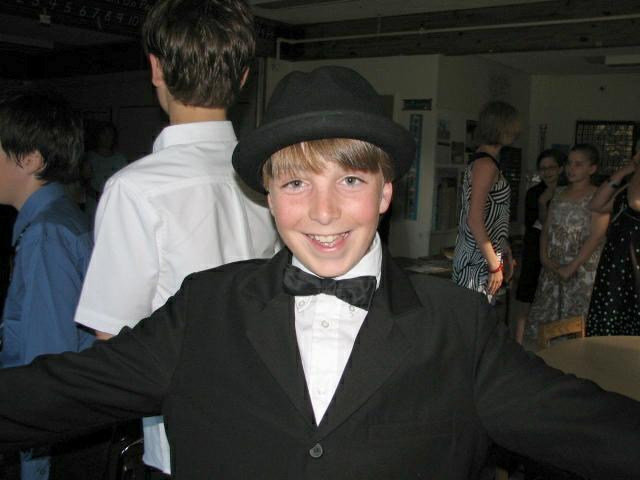 Hobey looking especially dapper in his bow tie and bowler hat, I must say.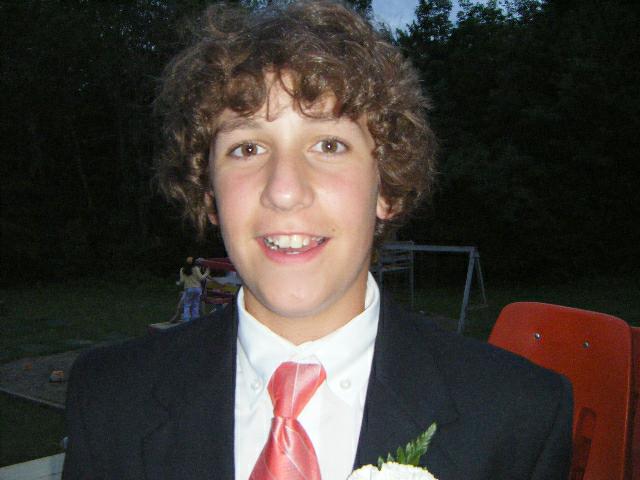 the graduate, ready for his close-up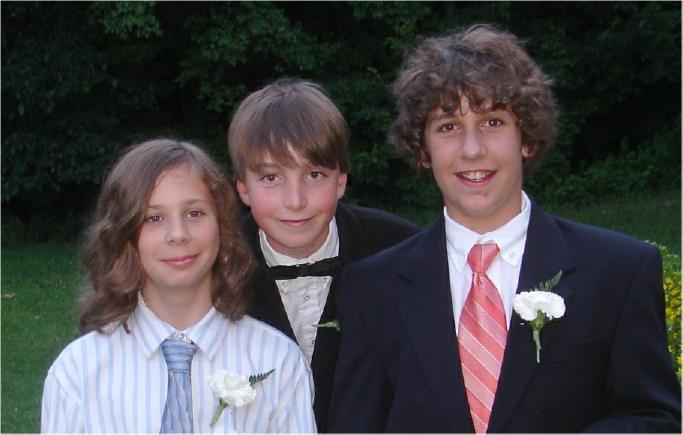 Sam, Hobey and Dylan--best friends since anyone can remember.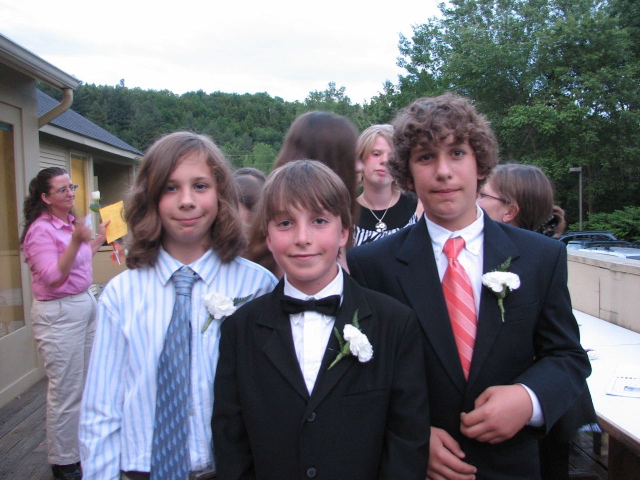 Sam, Hobey and Dylan again--isn't this how Green Day started?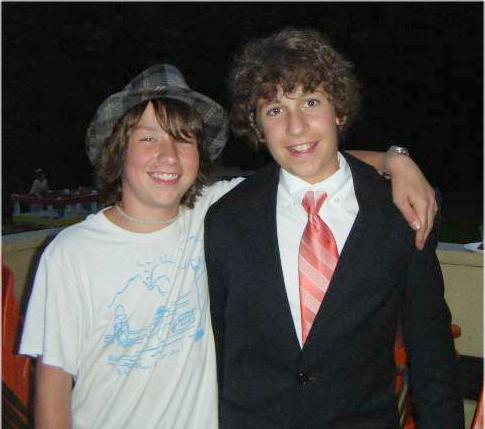 Dylan with Nick...they actually go back even further than Sam and Hobey, all the way to day care with Gramey Jane!
But Nick's a grade above Dylan as he just made the cutoff and Dylan just missed it.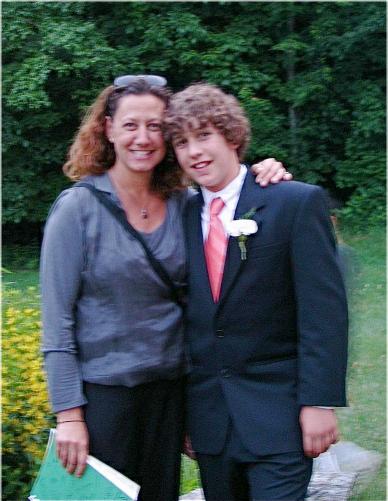 Proud mother of the graduate Judy and Dylan,
who was voted by his friends Class Leader and Class Sportsman.
Well done you two!
See all the superlatives (chosen by the kids) and the predictions (made by the teachers) here.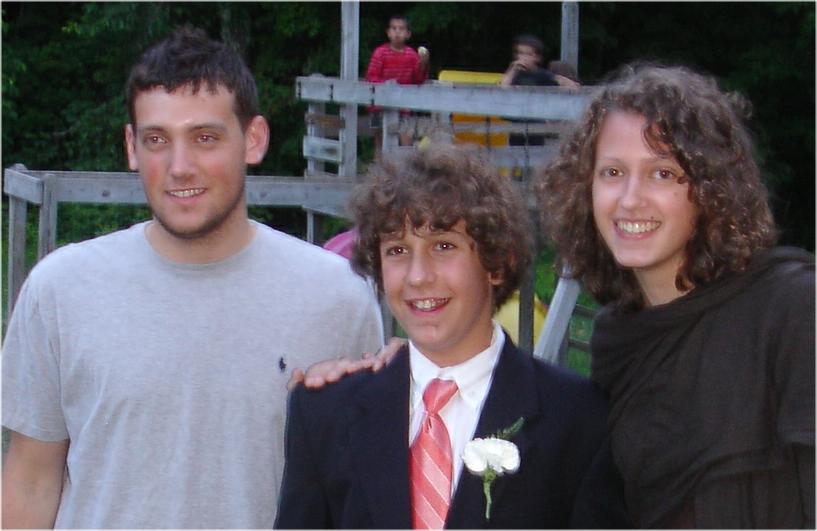 The graduate and his eldest cousins Tim and Anneliese--seriously, look at the hair when Liese leaves hers au naturel, it's the same!
Tim's not growing a beard, just sporting the fashionable 5:00 shadow look.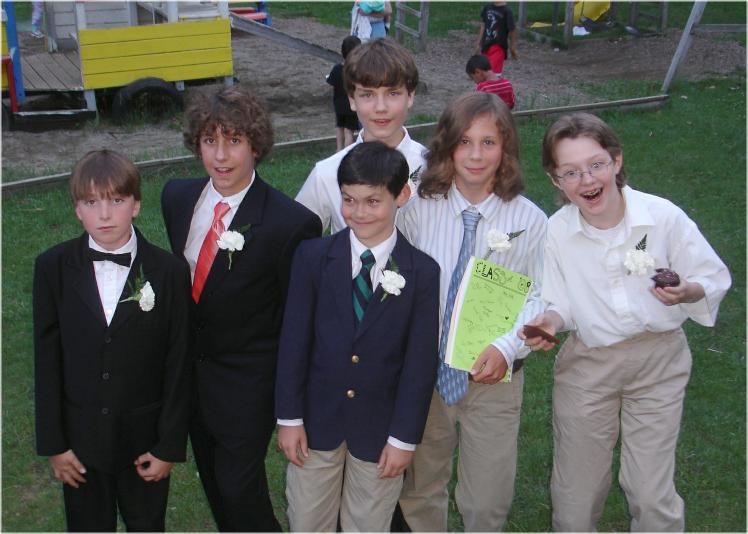 About half the boys in the class, dressed for success.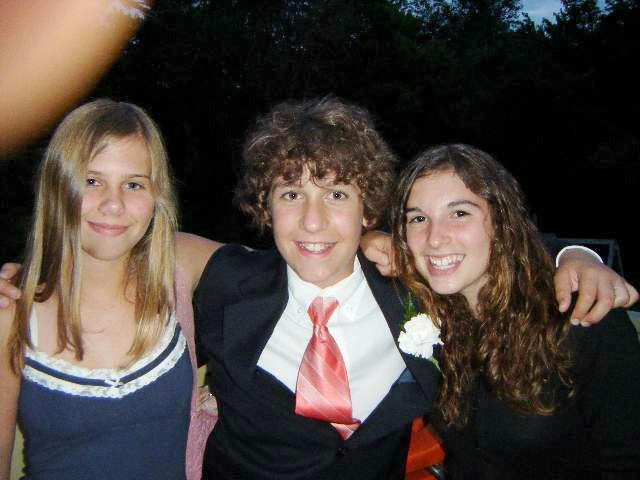 Dylan and the older women: Haley (Char's daughter) and Samantha (Serena's daughter),
both about to be high school freshmen. (Click here for a cute pic of Dylan and Samantha when they were MUCH littler!)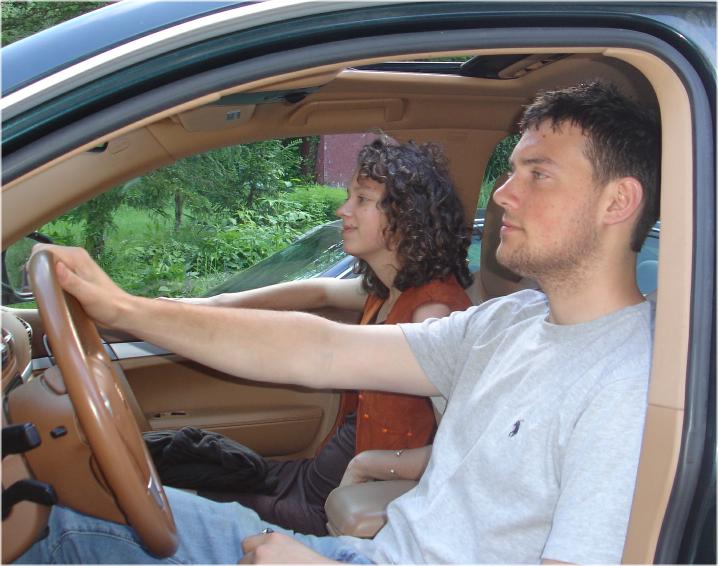 Tim and Anneliese heading back to Burlington after the festivities cuz
Tim had to work early the next day...driving Mackenzie's Porsche Cayenne.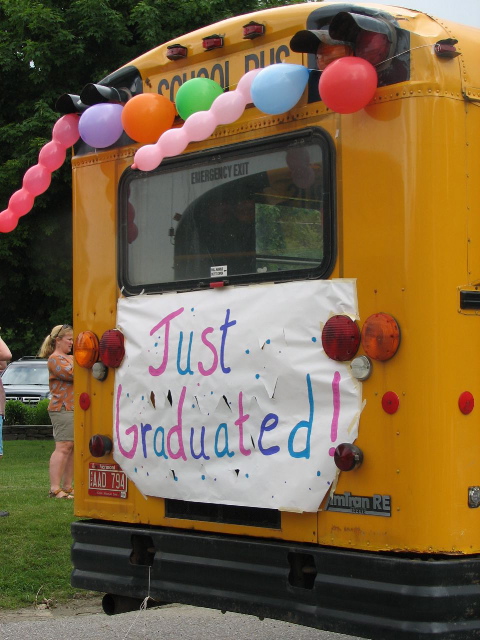 The next day was actually the last day of school.
The kids had a field day and then took off in a decorated schoolbus for
Char's (Sam's) house where they all spent the night in a giant class sleepover!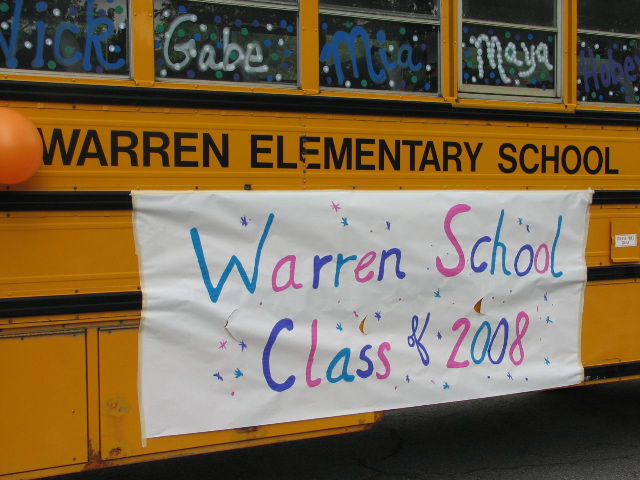 Another view of the bus, which happened to have exactly 24 windows, one for each kid.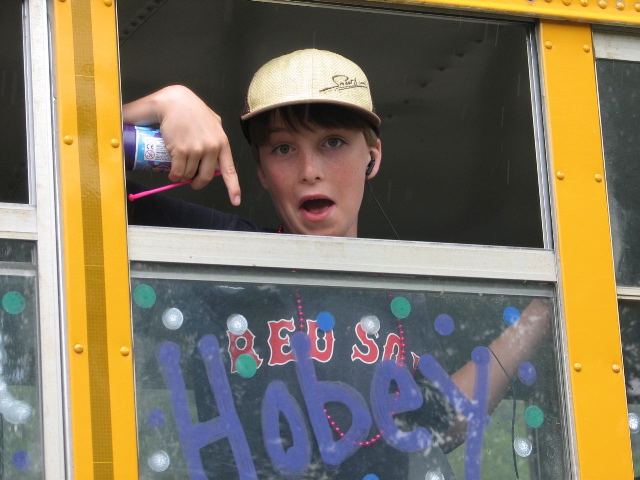 Hobey looking more normal, in his window on the bus.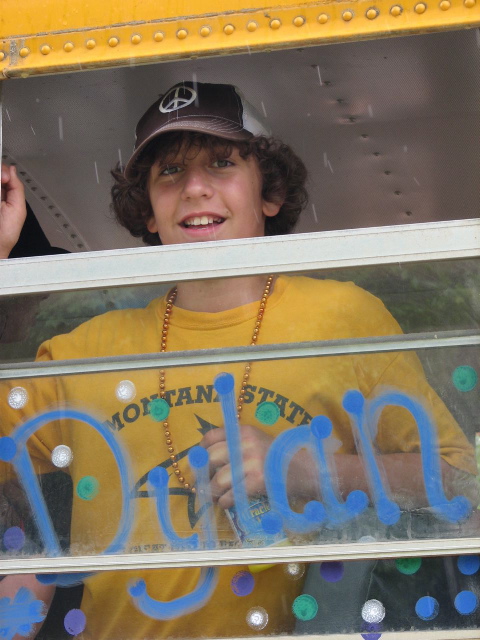 Bye Dylan, have fun at Sam's and good luck at Harwood!
Vermont gardens--Bert's and the Von Trapp's
Winooski, Burlington and North Hero